Markets and Shopping on the Lago
When it comes to weekly markets on Lake Maggiore, you really are spoilt for choice. Every day there is a market in a different town and the offer is varied from: fruit, vegetables, local cheeses, meat, but also household goods, clothing, leather goods, bags, shoes and accessories.
Weekly markets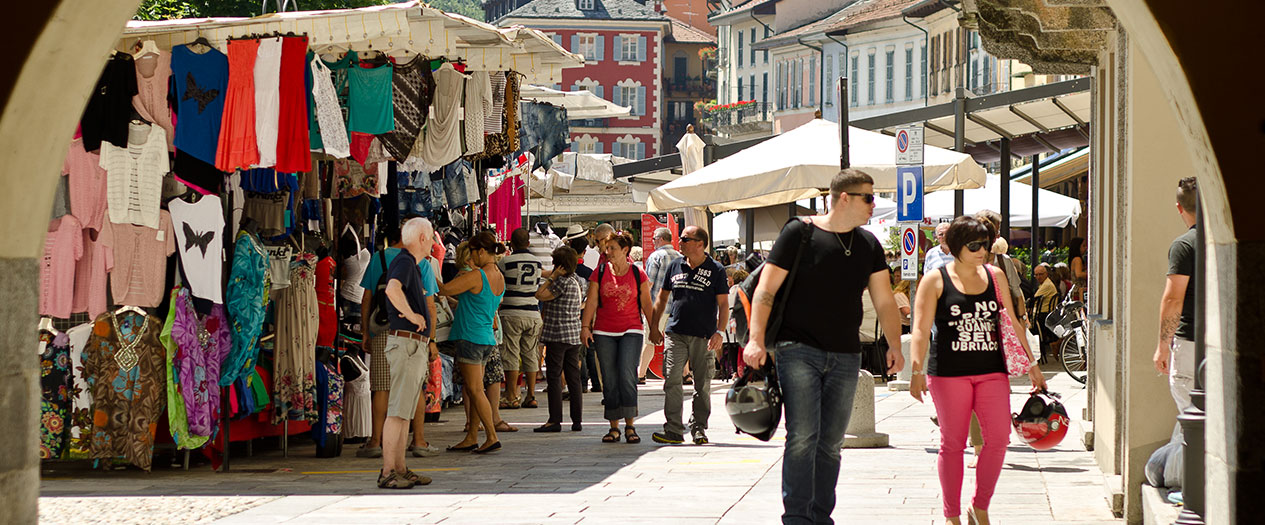 The largest weekly market in the region is held in Luino on Wednesdays between 9.00 am and 4.00 pm. This market has been legendary since the 16th century and enlivens the entire old town. Only 10km away from Maccagno it can be reached by car, ferry or bike.
In Cannobio, the charming market takes place on Sundays between 8.00 and 14.00 directly on the lakeside promenade.
Fridays are market day in Stresa. Between 8.00 a.m. and 1.00 p.m. There is a lot of activity in a wonderful setting.
Every first Sunday of the month (not in August!), the artists' and antiques market in Varese invites you for bargain hunting and leisurely strolling.
Shopping centre
The shopping centre "Il Centro" in Arese offers a real shopping experience. Italy's largest shopping centre with its 200 shops is located between the city of Milan and Malpensa Airport. The building with many design elements is based on London's Covent Garden. The award-winning shopping centre gives the impression of moving through the shopping arcades of a city.
You can find great bargains at the FoxTown Factory Store in Mendrisio (Ticino). With 160 shops and 250 brands, clothing, sporting goods, household appliances, fashion accessories and gifts are offered with year-round discounts of 30% to 70%.