A gourmet food holiday on Lake Maggiore
Lake Maggiore is also a culinary delight and the cuisine is varied.
In Maccagno itself, but also in the neighbouring villages, there are great restaurants, pizzerias, ice cream parlours and bars.
In the immediate vicinity of the Lagocamp, you can have a delicious pizza or one of the many typical dishes at the restaurant-pizzeria "La Concordia". The choice of dishes is also very varied at the restaurant-pizzeria "La Gabella" with beautiful terrace with lake view.

Osterie & Pizzerie in Luino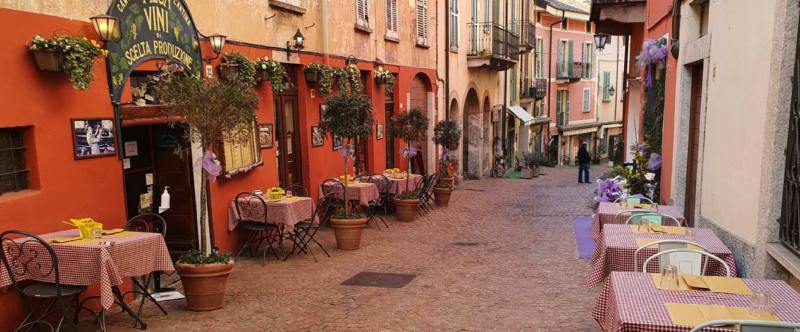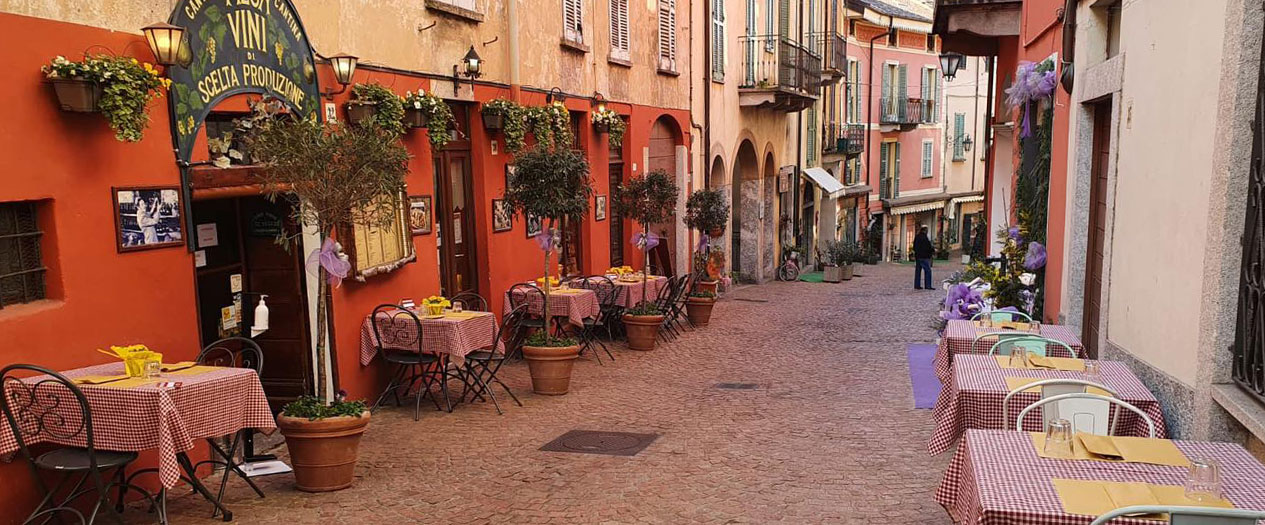 In Luino you can try a good fish at the Osteria "Al Branca" or taste typical Lombardy dishes at the "Osteria Al Cantinone". This osteria is also the oldest wine cellar in the city and here you can buy wines and regional products. For a barbecue, we recommend the restaurant La Vecchia Pesa with its Old House Grill. Mediterranean cuisine and gourmet pizza with special dough is offered at the Level restaurant in the historic Palazzo Due Scale. Regional cuisine can be found at the "Locanda del Cencio".

Ristorante Smeraldo
Fine, regional and seasonal cuisine in Dumenza can be found in the restaurant "Smeraldo". Son Adriano brings new ideas to the traditional cuisine of father Pietro, who has already been featured in several gourmet magazines.
For a few years now, the pastry shop "Dolce Smeraldo" in Luino has been complementing the culinary offer of the Pelandella family with delicious and imaginative desserts.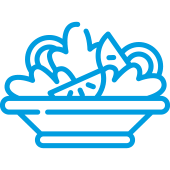 Trattoria del Lago, Hostaria dei Cacciatori, Il Borgo di Sabine and Al Roccolo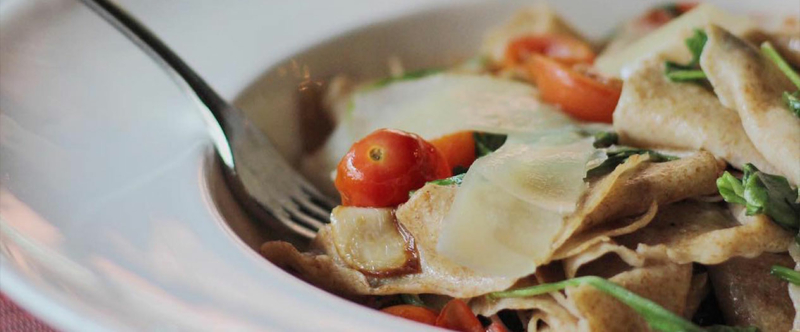 If you fancy a good "fritto misto" (mixed fried fish) and amazing pizza's, we recommend the "Trattoria del Lago" in Ghirla.
Between Luino and Varese, the small family-run restaurant "Hostaria dei Cacciatori" in Ferrera di Varese is worth a try. The dishes here change according to the season and risotto in all variations is the speciality of the house.
Traditional cuisine, but reinterpreted, is offered by the restaurant "Il Borgo di Sabine" in Vararo Cittiglio. From the panoramic terrace you can enjoy a breathtaking view and fantastic food.
Polenta, salsiccia, brasato and many homemade desserts are offered by the agriturismo "Al Roccolo" in Dumenza. The view from the courtyard terrace is beautiful and the selection of homemade cheeses is huge.
La Locanda del Cencio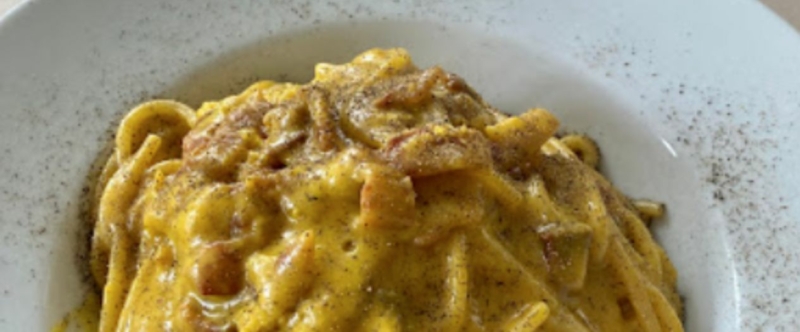 Delicious Roman home-style cooking is what Valentina and Luca offer in their down-to-earth and friendly restaurant La Locanda del Cencio. At La Locanda del Cencio, the team always strives to offer guests a traditional Italian culinary experience.
Trattoria Saredi, Trattoria del Maglio e il Torchio
The bar Trattoria "Saredi" in Maccagno has a nice rustic atmosphere and there is no menu. The menu is read aloud, just like at the Trattoria del Maglio in Porto Valtravaglia. At the agriturismo "Il Torchio" in Montegrino Valtravaglia you can not only buy vegetables and meat from their own produce, but also enjoy a wide selection of antipasti with a delicious meal.
Pian del Lares & Li Carvi Bianchi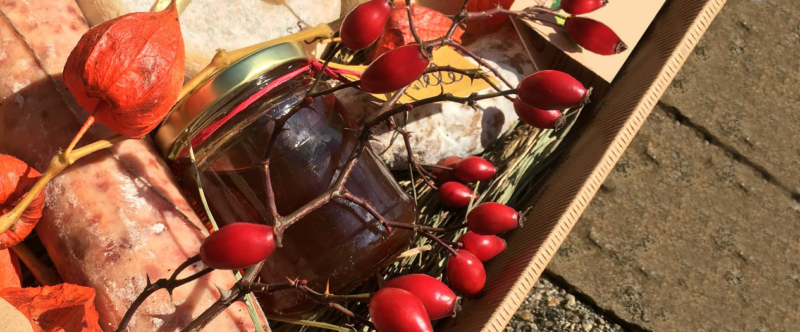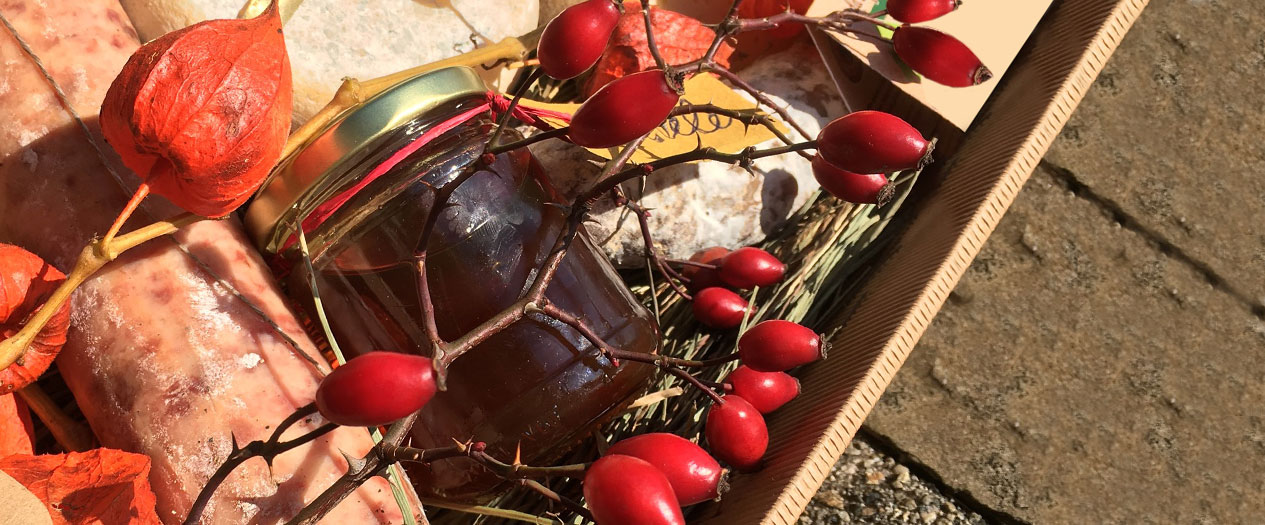 If you love cheese and/or cured meats, then Agriturismo "Pian del Lares" is the place for you. On this farm with its own cheese dairy you can spend a day in unspoilt nature and, depending on the season, taste typical dishes in the evening in the restaurant. Do you fancy a delicious ice cream made from goat's milk in yoghurt, hazelnut or chocolate flavours? You'll find it at the Azienda Agricola "Li Carvi Bianchi" in Mesenzana, where you can also get tasty fresh and mature cheeses.
Honey & Grappa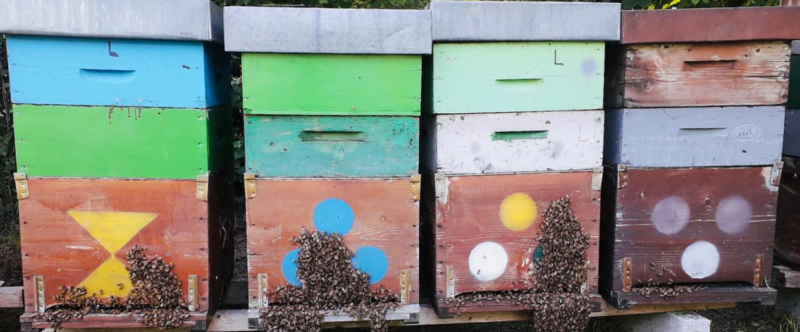 During your holiday on Lake Maggiore you must try honey, for example at the Apicoltura "Magnocavallo William" in the Veddasca Valley and of course a typical grappa or liqueur must not be missing from the tasting programme, for example at the legendary distillery "Rossi d'Angera" in Angera, which has been one of the most renowned distilleries in Italy since 1847.